It's an mHealth company's dream – a region filled with healthcare needs, and some of the highest numbers of smartphone users in the world.
Mobile Health STAT! It's a phrase that every mHealth company would love to hear – and just what's needed in the GCC healthcare market right now.
Offering some of the best opportunities for digital health providers in the world, this region is filled with needs that mHealth providers can uniquely meet – which is why many gathered recently at the 2013 HIMSS Middle East Integrated Health Innovations Conference in Dubai.
With high Internet penetration rates, and the highest numbers of smartphone owners in the world, the GCC is one of the best places globally to develop mHealth systems.
It's not only about smartphone ownership, but usage trends as well.
YouTube makes up 24% of all global mobile traffic, and data shows that Saudi Arabia has the world's most YouTube clicks per Internet user.
As a whole, the Middle East ranks second only to the U.S. in the number of daily YouTube views.
Positioning for mHealth is heating up, and the market is ripe for new providers.
"With the exception of larger hospitals, mHealth services have yet to be activated"
Says Abdulhameed Al-Khateeb, professor of biomedical engineering at King Abdulaziz University (KAU) and founder and CEO of Technology Implementation and Management Experts (TIME).
"To introduce such facilities, the majority of hospitals need to follow an electronic system similar to ones at banks, where you can use a computer or a mobile phone to check your bank account."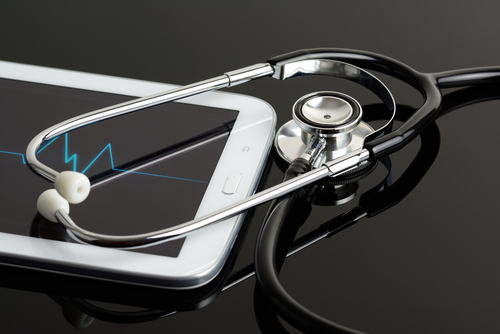 According to a McKinsey & Company survey, areas of the world that are remote and have limited access to doctors and healthcare facilities are much more likely to adopt mHealth strategies to improve care.
The many remote communities in the GCC are creating a growth of ambulatory clinics that require connections to advanced urban health centers, such as Dubai's Healthcare City.
It's one of the many scenarios discussed in a recent Boston Consulting Group (BCG) study that outlined how digital technologies can help meet the growing demand for quality healthcare in the GCC:
"Patient treatment assistance; for instance the use of mobile phone apps to increase compliance…well-being apps that allow patients to track and register vital statistics…can be monitored by a treatment team remotely. These services could generate great benefits in an environment where public knowledge on health and diseases is limited while trust and access to medical specialists is often complicated."
According to a report by Parks and Associates, the global mHealth market is expected to be the primary driver behind the massive growth expected in the global digital health market.
3 primary sectors expected to take off in the global digital health market:
From these primary sector, it just so happens that the GCC is in dire need of support for all three.
Chronic Care Monitoring
The GCC is experiencing a tremendous increase in chronic diseases such as:
Obesity
Hypertension
Heart disease
All six GCC countries hold positions within the list of top ten countries worldwide that have the highest prevalence of diabetes.
Fourteen percent of the total health expenditure in the GCC is spent on treatment and prevention of diabetes alone.
Aging in Place Systems
There's tremendous growth expected in the aging population within the GCC, with 65+ age groups expected to show a six percent cumulative growth by 2020.
mHealth technologies that support things such as medication management will play a significant role in this market.
Wellness and Fitness Apps
Since many of the chronic diseases present in the GCC are a result of lifestyle choices, consumers here are increasingly interested in wellness and fitness apps that empower them to take charge of improving their own health.
The future of the mHealth market
Fahad Al Hassawi, Chief Commercial Officer of telecommunications provider, du, says that the rise of chronic diseases in the Middle East is going to have a major impact on the healthcare market, especially in mHealth:
"…around 80 percent will be driven by software and apps, with the expected 39 percent growth in the smartphone market driving the uptake of mHealth solutions…one of the key factors driving the increasing use of healthcare apps is that patients desire to have better control over their own health.

Apps are convenient, giving instant on-the-go advice without the need to rely heavily on a physician. The ever-growing adoption of smart devices, such as phones and tablets, also plays a key role in the ever-growing popularity of healthcare apps."
According to Farid Gasim, the Director of Operations for Grafdom, there's been an explosion in mHealth apps and websites over the past two years, indicating a tremendous potential for growth in medical and healthcare apps over the next 3-5 years here.
"With the ever-growing consumer demand for smartphones and tablets, people rely on their gadgets for pretty much everything these days. As of August (2013), global mobile app downloads on both Android and iOS have exceed the 100 billion mark, far outpacing industry expectations."
With such strong trends toward mHealth in the GCC region, experts view mobile digital health technology as an answer to the shortages of healthcare resources that are impacting access to quality care.
Currently, the UAE leads the mHealth movement in the GCC, as well as globally, with a user base that has a huge appetite for mHealth technologies.
Combine that with the high rates of internet penetration in the area, as well as improved wireless technologies, and you can see why the mHealth industry will find enormous opportunity here.
Mobile health STAT! It's the digital health call to action throughout the GCC, and why your company should consider joining this market now to create needed solutions - and reap profitable rewards.
Log in or register for FREE for full access to ALL site features
As a member of the nuviun community, you can benefit from:
24/7 unlimited access to the content library
Full access to the company and people directories
Unlimited discussion and commenting privileges
Your own searchable professional profile
Not yet a member?
Register now
Already a member?
Log in for immediate access: