nuviun is a unique company. nuviun is passionate about innovation, technology and the future.
nuviun aim to play a significant role in raising awareness, educating, and driving emerging industries towards the tipping point from 'hot and upcoming' to 'mainstream'. The saying 'does what it says on the tin' does not apply to nuviun. There is no tin… yet.
We specialize in bringing emerging industries to the mainstream through a knowledge-based approach that is nurtured around connecting great minds.
Through a blend of cutting edge and traditional platforms such as an innovative collaborative online information portal, second-to-none industry conferences and exhibitions, roundtables and seminars, and world-class business intelligence and partnering facilitation, we aim to be the go-to source for pertinent industry information and intelligence.
We believe that by creating the leading emerging industries knowledge resource portal, we will become enablers for business growth and catalysts for pushing these industries to the forefront.
We work passionately towards building deep relationships and developing trust, providing a focused and targeted networking and business facilitation experience that is delivered with a personal touch. The table below summarises what we do...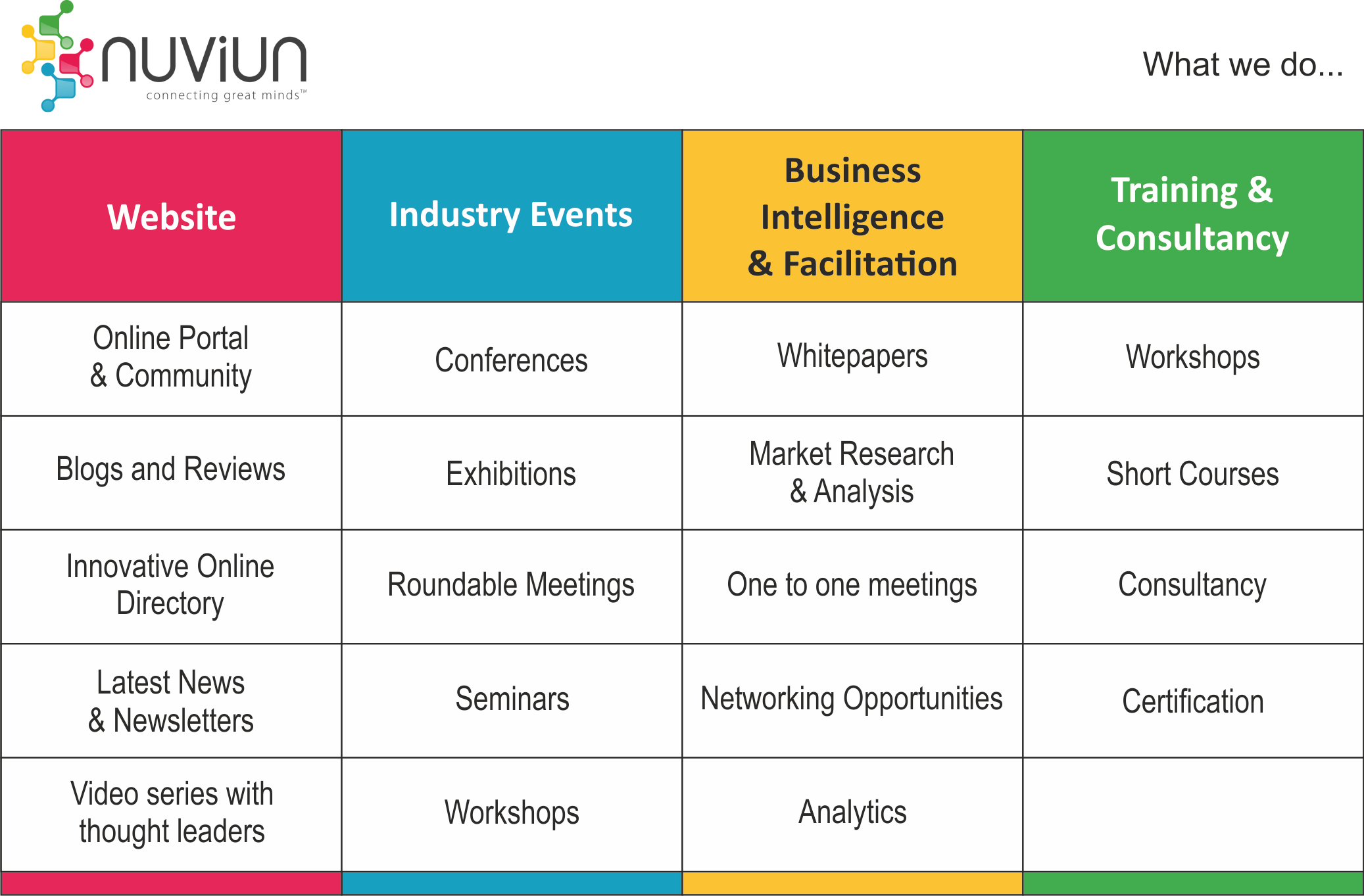 What is nuviun?
nuviun (nu-vee-un)
noun: a term of extreme and epic excellence! It derives itself from the terms new vision and innovation.
verb: To be nuviun is to be the best of the best. Quality is our middle name. We aim to deliverexcellence in everything we do. e.g. 'That masterpiece painting is very nuviun!'
Meet the Management:
Dr. Tamer Shahin - Co-Founder & CEO
Tamer has over 15 years of experience in managing people, performing risk management, strategic planning, process and productivity improvement, conference and event organization and management, as well as products and solutions design and analysis. He has spent his professional career imparting expert knowledge to industry, academic experts, and policy makers and is therefore perfectly positioned to establish and grow the company as an authority in various emerging industry sectors.
Tamer is incredibly ambitious, has a mission to help make this world a better place through innovation and networking and is relentless in getting everything right. He has a knack for pushing everyone to achieve beyond what they thought was their maximum potential. For these reasons, Tamer is our 'Godfather' – and as his alias suggests when it comes to Business – Tamer is not to be messed with! He will Risk Analyze you until you succeed or surrender and no one has yet refused an offer he has put to them! But seriously, his business acumen, expertise and experiences make him the perfect choice to be nuviun's CEO and Chairman of the Executive Board.
Wasim Hamid - Co-Founder & Chief Operating Officer
Wasim has vast experience in sales, network building, business facilitation, events organization and management. His experience is invaluable during the day to day operations of the company. Wasim specialises in geo-cloning existing businesses and introducing new verticals as well as in sponsorship sales and client relations. In addition to his many years of relevant experience, he has a Degree in European Business Studies and Company Law from the UK as well as many training courses and certificates.
Wasim is our Wolverine. As his alias suggests, his keen senses and abilities enable him to do whatever it takes to get the job done and to the best of his ability! Wolverine's catchphrase: "I'm the best there is at what I do, but what I do best isn't very nice!" But seriously, Wasim is such an all-round nice guy, it makes us wonder sometimes if there is a single bad gene in him. DNA analysis coming up…
Erfan Al Hashemi- Co-Founder & Chief Strategy Officer
An Engineer with a passion for entrepreneurship, Erfan has cofounded and managed the growth of several companies. Driven by innovation, he has proven to be successful at spotting industry trends and emerging markets. With his experience working in larger engineering corporations, Erfan has worked on and managed high profile projects.
The "Tony Stark" of nuviun, Erfan plans his business carefully and works hard at it. He is always looking at ways to making life easier and having fun doing it. He has an engaging personality that reminds you to work hard but party harder.
Omran Al Hashemi- Co-Founder & Chief Innovation Officer
Omran is one of those young engineers with vision. His engineering background helped him build strong analytical skills. With experience in design and manufacturing in major organizations, his skills in finding business opportunities are priceless to nuviun. Entrepreneurship is what inspires him most. Omran has co-founded two companies (so far) and has co-designed a patent pending product to make solar energy more efficient!
Omran's motto is: With vision, ideas (sometimes crazy ideas), and a strong team, whatever you set out to accomplish, with determination and the fearlessness to risk it all, it will be done. That's why he's 'Bruce Wayne' at nuviun.
Our Values
We work passionately because we believe in promoting new beneficial technologies that makes the world a better place.

We are committed to working with integrity because we believe that building trust and long term relationships makes the world a nicer place

We are driven by raw ambition (and good coffee) because we believe in making a positive difference to our community and placing the UAE on the map for being at the forefront of knowledge and innovation.

We strive to be the best at everything we do and we continuously look to learn and improve.

We believe in providing a fantastic environment for work; one built around mutual respect, hard work, and a lot of fun. We take pride in what we do, celebrate excellence, and reward success.
Our Philosophy
nuviun clients are important to us and deserve nothing but the best.

The trust of our clients will be a result of our unrelenting hard work and integrity; the quality and reliability of our service will be a result of our strategies and unwavering discipline.

All nuviun employees are part of the nuviun family; nuviun will thrive on synergy and push beyond our individual capabilities to accomplish a distinguished and uncompromising service to all our clients.