Venture funding in the digital health space is at its highest ever - $2.3 billion worth of investments thru the first six months of the year - already surpassing last year's total, according to Rock Health.
Digital health is booming, thanks to rapid technological development in sensors and medical devices, and a huge boost from venture capital investors who are keen on supporting products toward market success.
Halfway into 2014, at least 143 companies who are engaged in digital health has each raised at least $2 million, driving up the total venture funding in this space to a record-high $2.3 billion, according to a recent report from startup accelerator Rock Health.
The amount easily surpasses the $1.97 billion funding recorded for all of 2013, and means that the space has grown a robust 168% year-on-year.
Venture funding in digital health outpaced other traditional health sectors.
Digital health funding grew 85% for the first quarter year-on-year, compared to 72% for software, 22% for biotech, 5% for medical devices, and 57% for all health sectors combined.
Medical device companies have been busy buying digital health companies in recent months, Rock Health notes.
The midyear report indicates that investors are putting bigger stakes in startups this year. The average round of funding is now estimated to be at $15.6 million - or over $5 million more compared to last year.
The focus remained on early stage funding (seed and series A) with 57% of the total deals. The number of deals increased 64% over the past year.
Rock Health says the influx of funding this year is from six major sources:
Payer administration ($211 million)
Digital medical devices ($206 million)
Analytics and big data ($196 million)
Healthcare consumer engagement ($193 million)
Population health management ($162 million)
Personalized medicine ($150 million).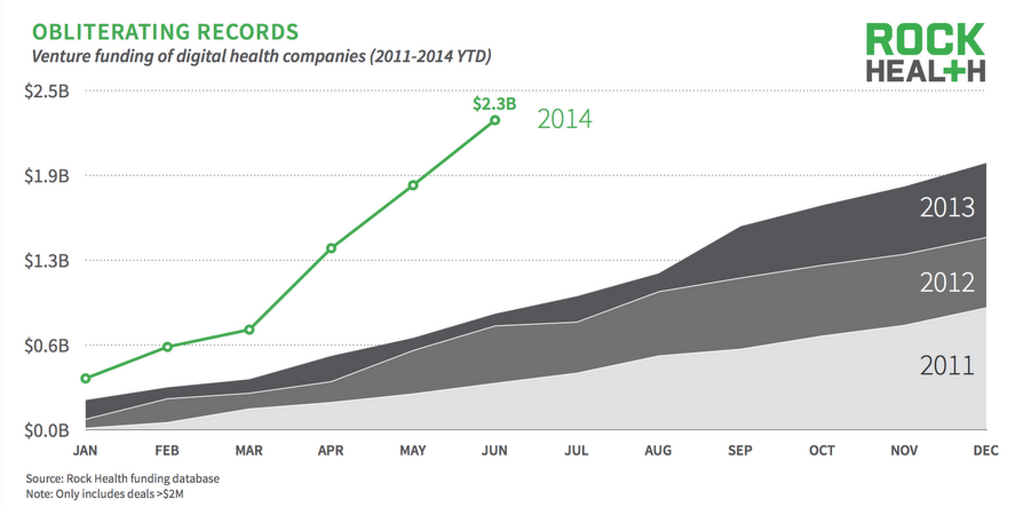 "We're seeing a lot of tailwinds from healthcare reform,"
Rock Health managing director Malay Gandhi recently said in a Venture Beat article.
"Healthcare reform has put a lot of pressure on existing stakeholders to reduce costs, and startups in the top categories have a direct effect on those pain points."
Most funding went to startups from:
California ($891 million)
New York ($349 million)
Florida ($219 million)
Massachussetts ($189 million).
California startups have received 40% of the total funding so far this year, according to the report. The Bay Area remains the "digital health hub" according to the report.
The largest venture rounds so far this year were:
NantHealth ($135 million)
Flatiron Health ($130 million)
Alignment Healthcare ($125 million)
Proteus ($120 million)
MedHOK ($78 million)
Lumeris ($71 million)
Zenefits ($67 million)
Doximity ($54 million)
Among venture capital firms, Qualcomm Ventures was the most active with four deals, while Andreessen Horowitz, Bessemer Venture Partners, Emergence Capital, Google Ventures, Matrix Partners, and Venrock had at least three deals.
During this record run in digital health funding, however, crowdfunding has posted a steep decline.
Out of 98 digital health campaigns across crowdfunding platforms Indiegogo, Kickstarter and Medstartr tracked by Rock Health, there was a modest 21.1% success rate - a 50% drop from last year's figures.
A total of $2.6 million was raised across all three platforms, with Indiegogo raising $2.3 million. Nearly half (41%) of the total amount of investments in crowdfunding came from a single campaign (Healbe GoBe).
As investments in this space register record numbers, some observers are already worried about a digital health bubble. But Rock Health believes the space is not heading towards one. Its report states,
"For those concerned about an overall venture bubble—it's always hard to tell from the inside, but for context, we're still a ways off from the frothy 1999-2000 period."
Log in or register for FREE for full access to ALL site features
As a member of the nuviun community, you can benefit from:
24/7 unlimited access to the content library
Full access to the company and people directories
Unlimited discussion and commenting privileges
Your own searchable professional profile
Not yet a member?
Register now
Already a member?
Log in for immediate access: