With the emergence of virtual reality, a new era might have started for medical education.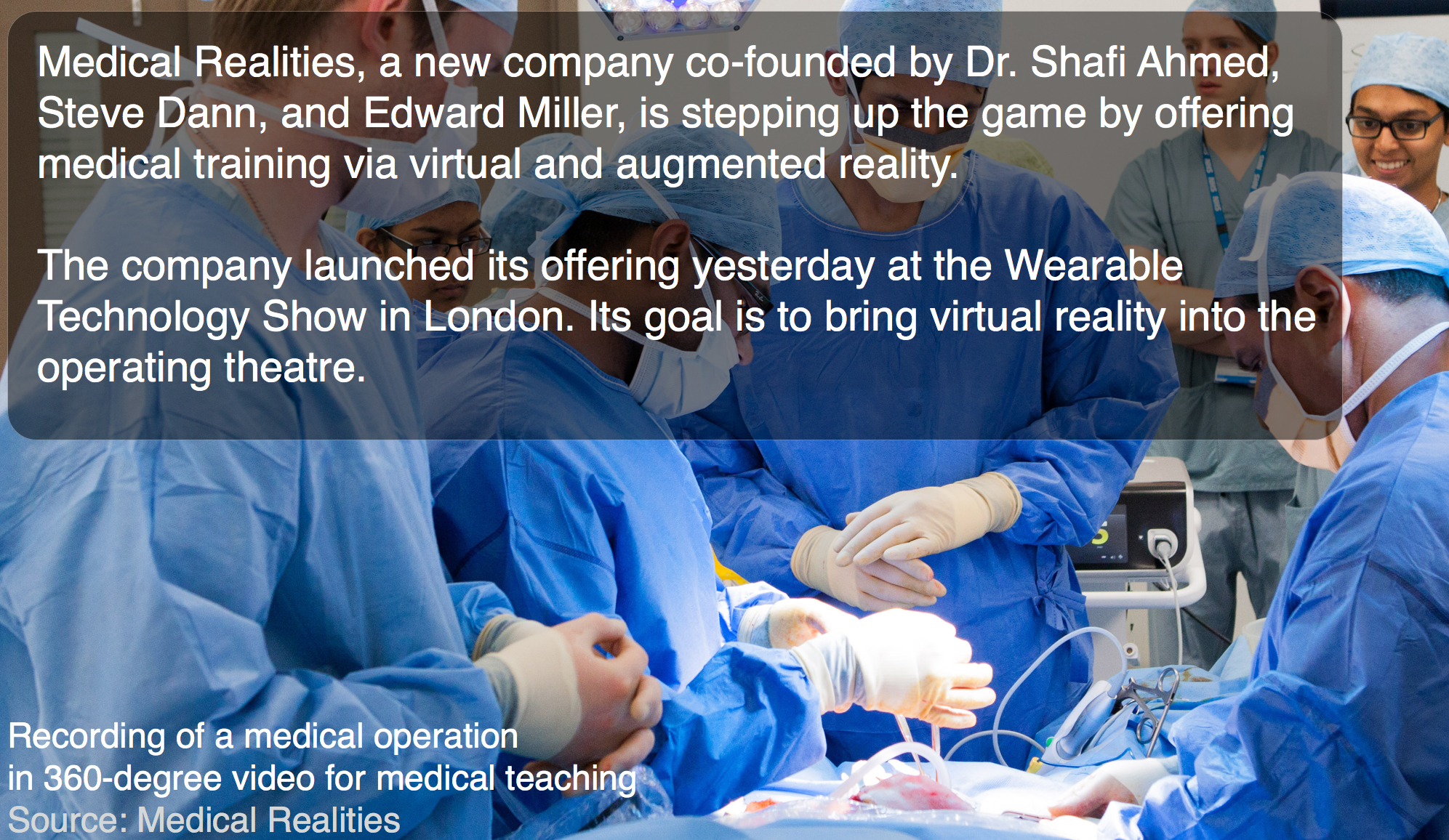 In 2012, Oculus-Rift's kickstarter campaign received $2.4 million in funding with a goal of only $250,000. Virtual reality is getting really hot for 2015, and will be "everywhere," according to digitalstrategyconsulting.com. While consumers might be most intrigued by virtual reality as an immersive experience for video games and entertainment, certain fields, such as healthcare education, can make professional use of virtual reality.
Co-founder of Medical Realities and medical doctor, Dr. Shafi Ahmed, and his colleagues were the first to successfully record a medical operation in 360-degree video in the UK. The procedure was a laparoscopic right hemicolectomy, performed at St Bartholomew's Hospital in London. At the Wearable Technology Show this week, Medical Realities announced a first product called "The Virtual Surgeon.''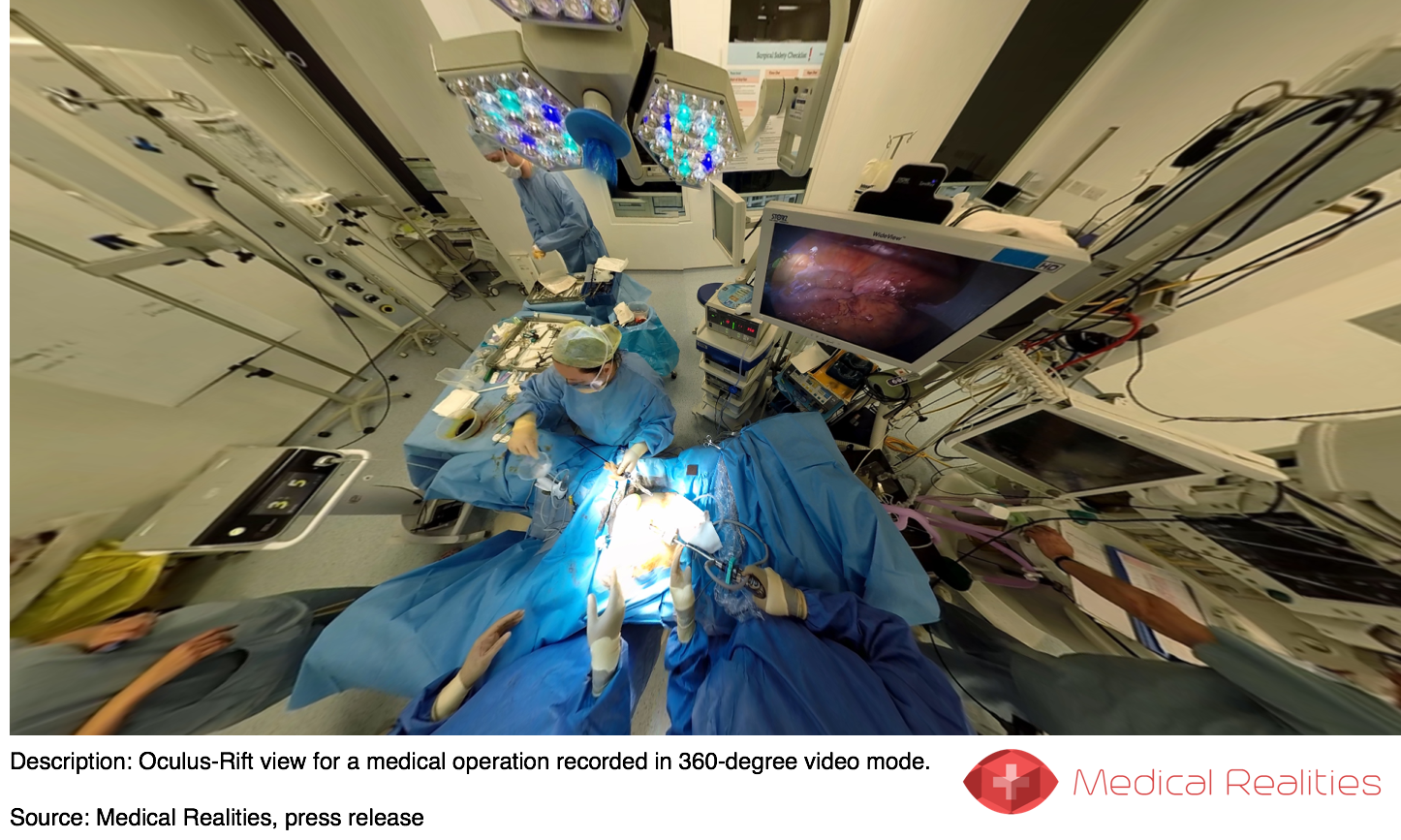 Dr. Ahmed hopes to increase the quality of medical education by introducing devices such as Oculus-Rift and other similar consumer-level virtual reality devices. These new technologies could virtually bring students right into the operating room.
Doing so, the medical education community could leverage opportunities to provide cheaper teaching.
The press release for the company launch claims that, by using consumer-level virtual reality (i.e., the Oculus Rift), the company can reduce the cost of training, reach a wider audience and provide a completely safe learning environment for medical students.
2000£ for Teaching with Cadavers
In a phone interview with nuviun, cofounder and specialist in interactive photography Edward Miller said that a cadaver for use in medical education can cost around 2,000£ (2,988 USD).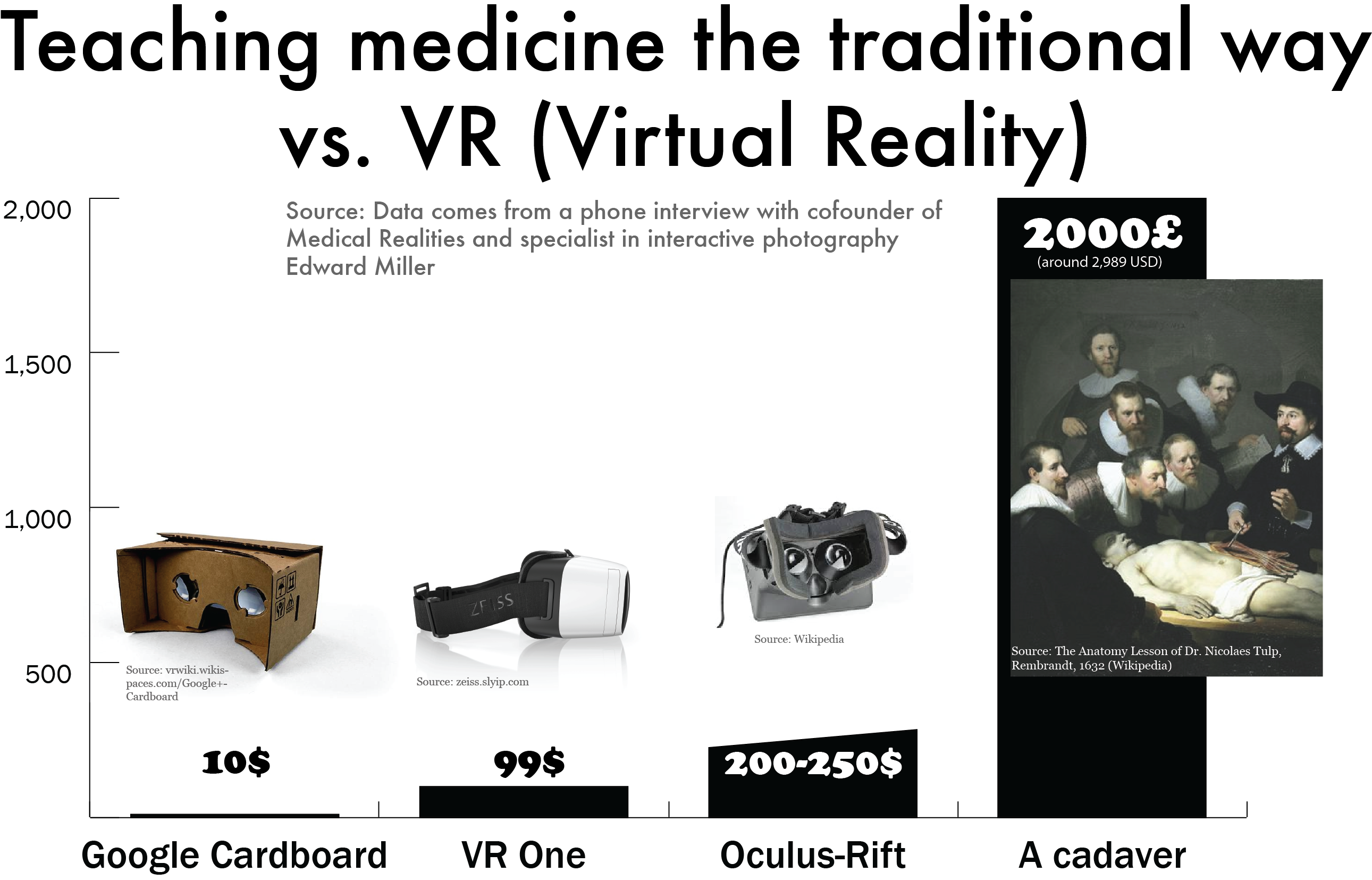 A comparison of means and the costs associated to train medical students, according to an interview with Edward Miller, co-founder of Medical Realities
According to Miller, if a medical student were to buy a Google Cardboard for $10, the VR One for $99, or the Oculus-Rift, expected to come out soon for a price between $200 and $250, the student would be good to go for a virtual reality medical education.
For the founders of Medical Realities, the goal of bringing virtual reality into medical education is to considerably cut costs and reduce waste on a large scale. Miller says that cadavers are expensive and their use is limited. Virtual reality could really help.
Audio Interview with Dr. Ahmed
Dr. Ahmed is a general and colorectal surgeon at The Royal London Hospital and co-founder of Medical Realities. He already had great success using augmented reality to help innovate medical training. According to the Medical Realities press release, Dr. Ahmed performed the world's first live-stream of an operation using Google Glass at The Royal London Hospital. Dr. Ahmed's team performed a procedure (involving the removal of cancerous tissue from the liver and bowel) on a 78-year-old man. 13,000 surgical students around the globe watched it live. Students could also ask questions directly of the surgeon.
nuviun had the chance to sit down with Dr. Ahmed at the Wearable Technology Show to ask him about how virtual reality can improve medical education.

"If you look at other simulation training tools currently out there, we have reached a plateau. Despite promises, many medical simulators fail to live up to expectations. Virtual reality offers something different. We want to offer a solution where we can deliver effective teaching and training to anyone, anywhere in the world."

Dr. Shafi Ahmed, from press release
According to the announcement, the team at Medical Realities hopes it will be able to start a new teaching and training model that will be adopted as part of a routine education tool in the future. The idea is that with innovations, such as the one by Dr. Ahmed's team for medical education, chances increase that future patients could receive better treatment and better care by better educated medical students.
Woman tries 360-degree video for the virtual operating room with Oculus Rift:
Source: Medical Realities, Dr. Shafi Ahmed
Log in or register for FREE for full access to ALL site features
As a member of the nuviun community, you can benefit from:
24/7 unlimited access to the content library
Full access to the company and people directories
Unlimited discussion and commenting privileges
Your own searchable professional profile
Not yet a member?
Register now
Already a member?
Log in for immediate access: