This year's Digital Health Summer Summit explored the most urgent and controversial questions that face the industry today. Here, we provide an overview of the Digital Health Summer Summit 2014, with impressions from our nuviun leaders.
The Digital Health Summit is where companies "connect, inspire and transform." This year's Summer Summit theme was "Exploring the Rx for Success", which is exactly what nuviun's Dr. Tamer Shahin, CEO, and Wasim Hamid, COO, were doing in San Francisco. Here, we provide an overview of the Digital Health Summer Summit 2014 and impressions from our leaders.
Conference Overview

Held June 19-20 in San Francisco, the Digital Health Summer Summit took a deep dive into the elements of a successful digital health venture—showcasing the latest digital health innovations from the perspectives of the industry's leading thinkers and innovators. The Summer Summit explored the most urgent and controversial questions that face the industry today— providing a unique gathering for industry veterans, innovators and stakeholders to network, share lessons-learned, and cross-pollinate with key ideas. Through Master Classes, case studies and in-depth panel discussions, decision-makers and entrepreneurs were given valuable tools, best practices, and evidenced-based techniques for building a successful digital health venture by capitalizing on all this market has to offer.
Impressions and Insights
Tamer and Wasim provided me with an overview of their impressions and insights from the conference. Both noted that San Francisco was a great location for the event, with the entrepreneurial spirit of the region really highlighted. Holding the conference at the Terra Gallery provided an intimate setting, which enhanced the great opportunity for networking—something they both enjoy.
The busy agenda indicates the quality and volume of information presented, starting with the opening session, "Digital Health at Warp Speed." It was a very candid and slightly provocative session in which Forbes contributor, Dan Munro, and healthcare futurist, Joe Flower, teamed up in a 1:1 session in which Flower challenged the community to really embrace digital health and the potential it has to offer.
The rest of that first day was divided up into three parts:
Innovations from Scratch – They particularly enjoyed "Sometimes You're the Windshield, Sometimes You're the Bug: Lessons Learned from Broken Businesses, " where three CEO's from failed digital health businesses talked candidly about lessons learned and how their failed companies continue to inform future ventures.
Building Killer Partnerships – The formation of effective partnerships was a key focus. Several were discussed, such as the one that's been created between IBM Watson and Welltok, showing how large organizations can benefit by teaming up with smaller ones. A key ingredient for success highlighted here was the need for stakeholders on both sides of the partnership to get along and collaborate well.
Winning Strategies – The human vs. machine topic came up quite a bit, with some saying that 80 percent of doctors will eventually become obsolete, as Vinod Khosla, VC and founder of Sun Microsystems repeated recently. However, other proponents argued that we can never remove the human touch from healthcare. Along these lines, both enjoyed Dr. Jordan Shlain's presentation, "The Doctor is (Always) In: Reinventing the Doctor-Patient Relationship for the 21st Century," where he delivered a doctor's perspective on the doctor-patient relationship within the evolution of digital health and how it's transforming this essential connection.
Another interesting theme centered around natural language and Artificial Intelligence, as well as a focus on longevity, which is something that was identified in nuviun's First Word in Digital Health series. As expected, this longevity theme was closely tied to care for the elderly and how technology can help support this need.
Telemental Health was flagged as a rising sector in the digital health space, in line with the growth of telemedicine as a whole. In support of the mental health of the information-overloaded attendees, they had a fun game on the second day based around the board game "Operation." It was a great way to bring people together, share some laughter and take a break.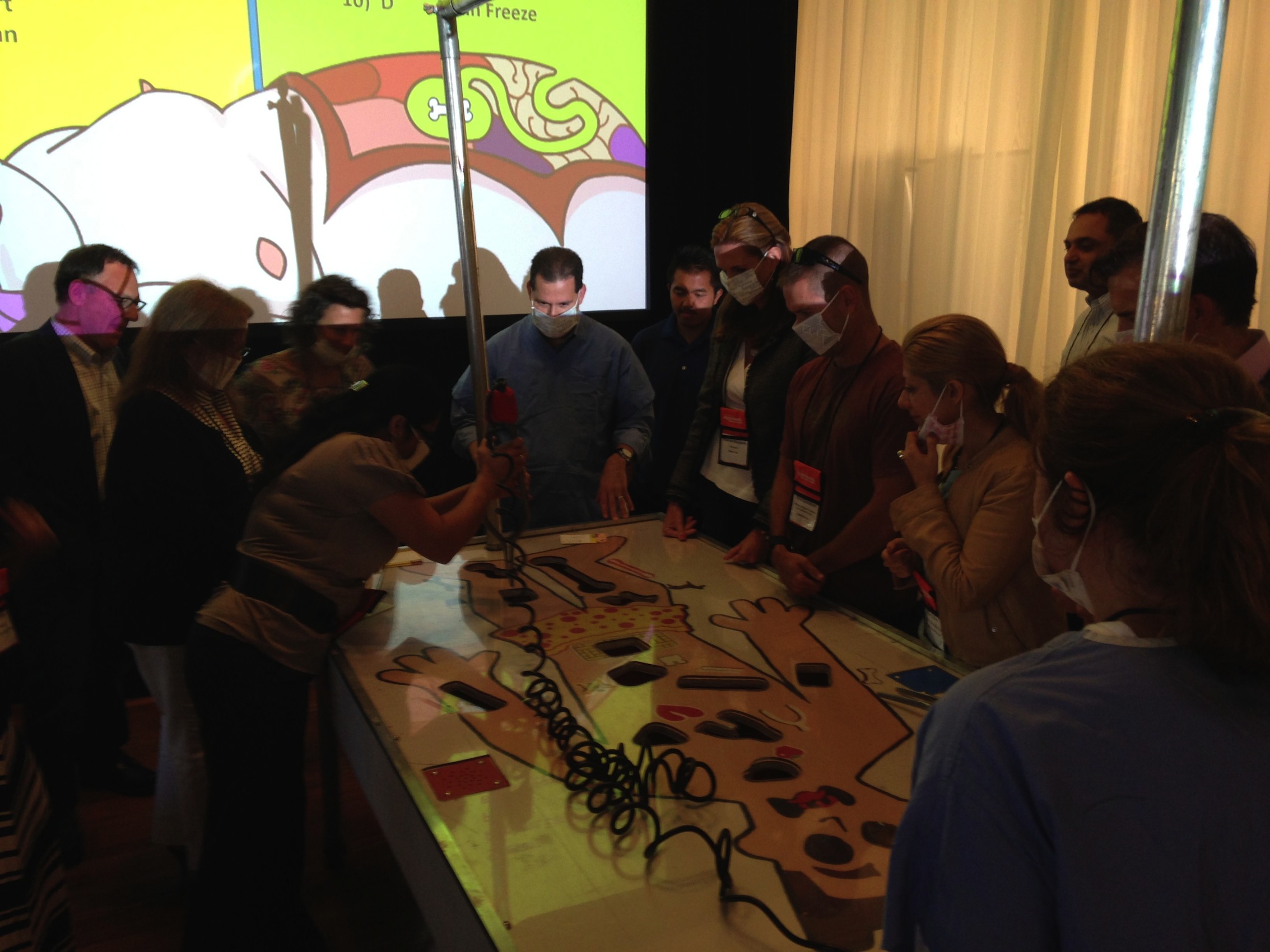 Attendees take a break for an 'Operation' together
The second day began with an excellent keynote from Jeff Arnold, founder of WebMD and Sharecare. Entitled, "Be All You Can Be – How the Army is Optimizing Soldiers' Health & Resilience", Arnold demonstrated ArmyFit™, a partnership with the U.S. Army to provide soldiers, family members and army civilians with a holistic self-assessment and development environment to support optimal health. They found the portal to be quite interesting and similar in some ways to what we're developing at nuviun.
Frost & Sullivan's Daniel Ruppar gave an excellent presentation entitled, "The Market Report: Top Growth Opportunities in Digital Health," which highlighted current trends and opportunities, with some interesting slides:
In-person and Connected Health Solutions
Copyright © Frost & Sullivan. 2014. Used with permission
Themes for the New Healthcare Economy
Copyright © Frost & Sullivan. 2014. Used with permission
Markets with the Greatest Opportunity for Growth
Copyright © Frost & Sullivan. 2014. Used with permission
Jill Gilbert was the conference producer and did a wonderful job organizing the event. Tim Reha interviewed participants to gather conference insights—as he did with Tamer and Wasim—who provided a snapshot of nuviun's mission within the global digital health space:
As they noted, "The Digital Health Summit creates in-person opportunities for companies to 'connect, inspire and transform,' which is similar to what we're doing at nuviun in a different way. We also seek to 'Connect Great Minds' through our unique platform in order to fuel the digital health conversation to catalyze the industry. And we look forward to the continued creation of the important relationships that will help us do it."
Log in or register for FREE for full access to ALL site features
As a member of the nuviun community, you can benefit from:
24/7 unlimited access to the content library
Full access to the company and people directories
Unlimited discussion and commenting privileges
Your own searchable professional profile
Not yet a member?
Register now
Already a member?
Log in for immediate access: