Lessons learnt since the 2004 tsunami: Digital innovations in disaster preparedness, emergency response planning, and public health delivery.
When severe earthquakes shook Northwest Indonesia on December 26, 2004, the existing tsunami warning system, based in Honolulu, was activated within minutes, sending warnings to 26 countries—including Indonesia and Thailand—that destructive waves could be generated by the quake. However, officials were unable to quickly communicate the impending disaster to vulnerable communities along the Indian Ocean.
Without pre-disaster planning and the appropriate communication infrastructure, officials were unable to evacuate residents before tsunami waves made landfall. Villages were destroyed. Over 200,000 people died. Damages related to the tsunami and its aftermath are estimated at more than USD $11 billion.
The decade following this disaster has been one of rapid innovation. Developments in mobile communication, big data science, risk prediction tools, and mHealth apps allow for faster, and highly coordinated, responses to natural disasters and public health emergencies.
Predicting Risk and Preventing Disease with Big Data
Emergency response and disaster risk reduction are yet another way in which advances in data analysis and information sharing impact global health.
"Human health is at the center of any emergency response," according to Margareta Wahlström, Special Representative of the Secretary-General (SRSG) for Disaster Risk Reduction.
After the initial loss of life from drowning, public health officials are concerned with the spread of communicable diseases, such as cholera, malaria, and dengue, after weather events of this scale. This is where data collection, surveillance, and mobile communication are beneficial.
Thorough risk analysis supports a coordinated and prompt response to health needs, strengthens early warning systems, and helps the global community to stay abreast of evolving health and humanitarian issues.
In the aftermath of the 2004 tsunami, for example, surveillance data collected in Aceh, Indonesia indicated that 40 dengue cases had been reported in one month. Alerts were sent to health officials, who ordered insecticide spraying and the distribution of bed nets in the impacted neighborhoods.
Global Risk Analysis
The European Commission, together with the Inter-Agency Standing Committee has developed an Index for Risk Management (INFORM), the first open-source global risk analysis tool for understanding the risk of humanitarian crises and disasters. Using data from 191 countries, INFORM can assess a country or region's actual risk with high levels of specificity.
INFORM assumes three interrelated dimensions of risk: hazard and exposure; vulnerability; and coping capacity.
The hazard and exposure dimension is the probability of exposure to a specific natural (i.e., earthquake, tsunami, flood, etc.) or human-induced (i.e., internal or international conflict) hazard.
The vulnerability dimension reflects the socio-economic characteristics of exposed populations.
The coping capacity dimension measures the infrastructure and overall resilience of a society.
Although there are some limitations to using data science to measure risks, such as the difficulty of quantifying the risk of biological hazards, INFORM is a useful tool for evaluating risk thresholds worldwide. In terms of tsunami risk, for example, INFORM measures hazard and exposure based on the average annual exposure of a population, communication infrastructure, reported communicable disease rates, and the availability of food—among other data sets.
2015 INFORM Risk Assessment for Indonesia and Global Peers

INFORM risk analysis - Source: INFORM
INFORM is updated regularly, and stores at least five years of the best available data. The data science tool aids in both international and local disaster response and emergency preparedness planning by identifying trends, prioritizing decision making, and decision support for risk reduction.
Innovative mHealth Solutions Empower Residents and First Responders
In this new, digital age, innovation has changed the practice of public health. Increasingly, governments are using toll-free telephone services to convey emergency messages and to connect residents to healthcare providers remotely.
In Bangladesh, the Ministry of Health and Family Welfare distributed mobile phones to some 500 hospitals. The phone numbers are advertised on a central website. Each district has a physician available 24 hours per day, 365 days per year to receive incoming calls and answer questions about health issues.
Non-profit organizations like the American Red Cross have developed apps that track weather and natural disasters, as well as pre-loaded first aid information, giving users the information they need, when and where they need it.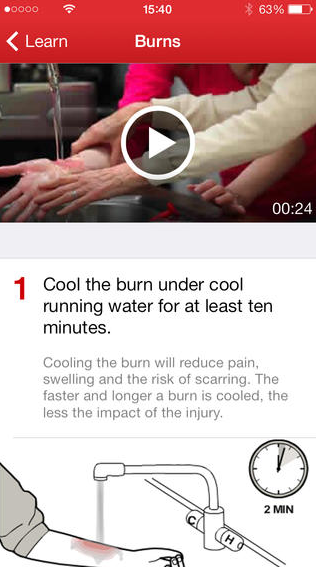 Source: American Red Cross
Data science has come a long way in 10 years. Although natural disasters and epidemic health crises are not completely preventable, big data and mobile communication infrastructures have improved our ability to predict and respond to emergencies.
Jenn Lonzer has a B.A. in English from Cleveland State University and an M.A. in Health Communication from Johns Hopkins University. Passionate about access to care and social justice issues, Jenn writes on global digital health developments, research, and trends. Follow Jenn on Twitter @jnnprater3.