Genomics England begins its 100,000 Genome Project to speed time to diagnosis and inform personalized treatment regimens.
Genomics England, a wholly owned Department of Health company, has begun its latest genomics venture. The company intends to sequence 100,000 whole genomes from 75,000 patients and 25,000 tumors by 2017.
The project, titled 100,000 Genomes, is a transformative research project aimed at finding new ways to identify and care for patients, and could ultimately change how patients are treated in the National Health Service, according to Professor Mark Caulfield, lead scientist of Genomics England.
"The overall impact of the work of Genomics England could be to transform the NHS provision of diagnostic tests and then care to a whole range of patients," says Caulfield. "This could itself have an impact on how services are commissioned, with perhaps greater emphasis on testing of the broader population in order to achieve earlier diagnosis and more effective intervention for patients most at risk from developing very serious illnesses."
What Is Genomics?
Genomics is the study of genes and how they work. A genome is a complete map of a person's DNA. It "contains all the information needed to build and maintain the organism," according to Genome Home Reference, a service of the U.S. National Library of Medicine.
Genomics lends insight into the cause of diseases and how diseases develop in each individual. Currently, medical researchers use genomics in an effort to develop personalized treatments for diseases.
Also useful in public health, genomics helps track infectious diseases. It can help in understanding how infections spread and in many cases allow the pinpointing of the source and nature of an outbreak.
Current and Potential Uses of Genome Research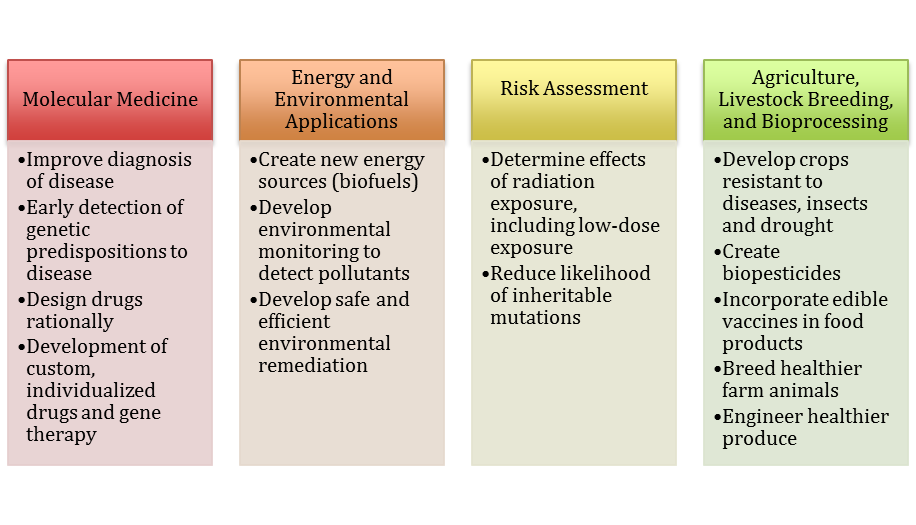 Source: U.S. Department of Energy Human Genome Project and nuviun
100,000 Genome Project Details
Genomics England has procured Illumina, a global leader in gene sequencing, to sequence and analyze the genomes. After analysis, results will be sent to NHS for review and possible clinical application.
Some 75,000 participants are expected to take part in the 100,000 Genome Project, and recruitment will begin in early February 2015. Clinicians will refer eligible patients who wish to be involved in this project to one of 11 designated genomic medical centers.
A genome project of this magnitude is not without challenges. Referring to these inherent challenges, Jim Davies, Chief Technology Officer of Genomics England, said:
"The data we need for Genomics England is large and complex: to get to 100,000 genomes we'll be collecting 10 petabytes of sequence data, and detailed, relevant health data on up to 100,000 people."
Additional challenges include the need for informed patient consent, which means educating people about what a genome is and how learning about it might impact their lives, and ensuring data privacy.
Data Without Borders
While the 100,000 Genome Project holds promise for those receiving medical care for particular diseases in England, there is some concern about the need to share the results of national genome projects with genomic and healthcare specialists around the world. Sharing data across borders requires careful attention to privacy and ethics as well as technical compatibility, and may have legal, economic, and political implications.
The Global Alliance for Genomics and Health is an international coalition formed to enable the sharing of genomic and clinical data with scientists and medical professionals worldwide. If shared, the wealth of information discovered through genome sequencing could significantly change the practice of medicine as we know it today.
Jenn Lonzer has a B.A. in English from Cleveland State University and an M.A. in Health Communication from Johns Hopkins University. Passionate about access to care and social justice issues, Jenn writes on global digital health developments, research, and trends. Follow Jenn on Twitter @jnnprater3.