Last year was certainly a great year for many digital health startups—and there are reasons to think that 2015 could be even better.
While it's still seen as a novelty by some providers, rather than a staple of clinical and personal caregiving, digital health technology is clearly on the rise in the U.S. It looks like some of the money that once flowed into traditional health IT investments (such EMR and business intelligence vendors), is now being diverted to digital health solutions.
While many digital health companies are in their early stages of growth, the promise of emerging digital health is enormous. Seldom has any healthcare technology category shown such explosive growth and acceptance. After all, 20% of Americans already own a wearable device, according to research by PricewaterhouseCoopers. That's an astonishing figure given that it's only been a couple of years since the first ones hit the market.
Last year was certainly a great year for many digital health startups, many of which are growing the market rapidly. But there are reasons to think that 2015 could be even better.
VCs targeting mHealth, population health
As digital health has started to take root in medicine, VCs have been dropping huge piles of money on startups targeting mHealth apps and technologies. While there's no way to be certain, it seems likely that VC investors will make progressively larger bets on digital health this year.
According to research by Mercom Capital Group, consumer-focused technologies took in 65% of all VC investment in Q3 of 2014, including $345 million in mobile health deals and $101 million in telehealth funding. VC firms also invested $85 million in personal health firms, $70 million in social health companies, and $23 million for tech supporting medical scheduling, rating and shopping. These investments are up sharply from 2013, and should shoot up again in 2015 unless something dramatic happens to dampen investors' enthusiasm.
Some big deals in the digital health space last year include a $135 million investment in connected cancer care-based NantHealth, $130 million for oncology-based cloud platform Flatiron Health; $125 million for population health-based Alignment Healthcare, $120 million for digital medicine startup Proteus Digital Health and $78 million for MedHok, which has created a platform for population health and medical compliance.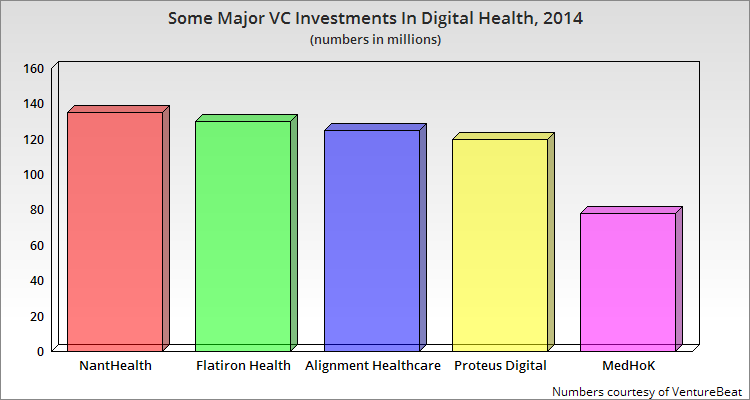 Just the beginning
Though it's a downer to think about, it's possible that the amount of money flowing into the mHealth world could create a bubble that pops abruptly within the next few years (In fact, some may argue that the bubble already exists.)
But there's a big difference between these times and the dotcom bust in 2000. While startups and investors were trialing creative concepts on the web—often with little attention to controlling their burn rate or even defining their customer base—today's crop of entrepreneurs are largely working on real, well-defined business models.
Also, with clinicians, payers, employers and patients adopting mHealth/connected health technologies, and even investing in companies that create digital health technology, it seems clear that demand for digital health innovations will remain in force—and that'll keep VCs interested.
The bottom line: independent VC firms can and will continue to fund digital health startups with an open hand in 2015, possibly generating funding levels that surpass even 2014's surge. It's just a matter of seeing who gets in the fastest and solves the biggest problem.
Anne Zieger is a veteran journalist who's been covering the U.S. healthcare scene for over 25 years. You can follow Anne on Twitter @ziegerhealth.
The nuviun blog is intended to contribute to discussion and stimulate debate on important issues in global digital health. The views are solely those of the author.