This year's James Dyson Award for design engineering goes to James Roberts, the 23 year-old UK inventor of MOM, a potentially life-saving inflatable incubator.
Incubating Innovation
Those involved in the digital health and medical technology fields know a thing or two about incubators. Incubators shelter the entrepreneurial spirits among us. They offer the essentials for survival in an age of innovation: heat, electricity, Internet connections, chalkboards, business advice, and coffee.
For 23 year-old U.K. inventor James Roberts, incubators have come to mean something different. Sure, there's the instant fame of winning the coveted James Dyson Award, a design and engineering prize. But Roberts set out to solve a problem for the smallest of the world's citizens.
Design Specs for MOM, the Inflatable Incubator
The inspiration for Roberts' award-winning invention, an inflatable incubator he calls MOM, came from watching a television report on the Syrian refugee crisis. MOM is an inexpensive, inflatable incubator with electric components that can operate for 24 hours without a power source. The incubator can then be recharged with available resources, such as a car battery.
MOM provides the same protections as incubators you'd see in first-world hospitals. It creates a stable environment, with sterile air, temperature and humidity controls, and a phototherapy unit for treating jaundice. MOM's control unit was designed to simplify operation, and the unit's transparent side panels allow for easy access to the baby at all times.
The incubator is made of lightweight inflatable material, which is easily sterilized, and is collapsible for mailing in already-used care packages. While regular incubators cost around £30000, MOM can be manufactured, tested and delivered to a site for about £250.
Health Issues and Mortality Rates Associated with Preterm Birth
According to the World Health Organization, every year an estimated 15 million babies are born prematurely (i.e., before 37 weeks), which is about 1 in 10 babies.
Approximately 30% of neonatal deaths worldwide are due to prematurity or low birth weight. More than three-quarters of these deaths might be preventable with cost-effective care to which many in the first-world are accustomed.
Common problems associated with prematurity include jaundice, respiratory complications, heat loss, and dehydration—some of which can be prevented or lessened using proper incubation.
10 Countries with the Highest Rates of Preterm Births per 100 Live Births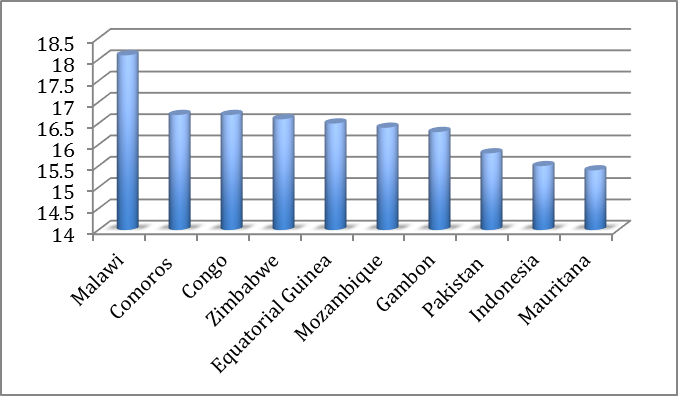 Information Source: World Health Organization
In the last three years, over 60,000 Syrian babies have been born in Turkish refugee camps. UNICEF estimates that over 20,000 infants died in Turkey in 2014.
Infant Mortality Rate (per 1,000 live births) in Turkey and Neighboring Countries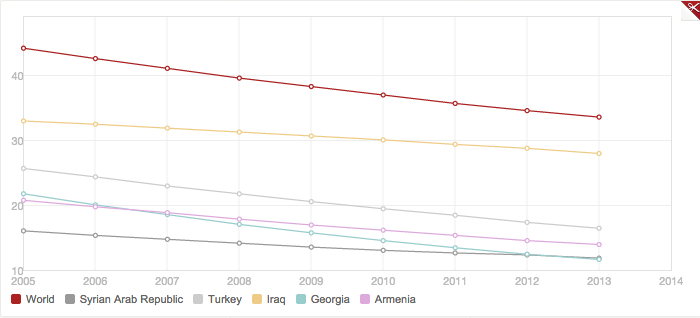 Source: WorldBank
Medical centers in refugee camps have intermittent electricity. In the developing world, there's limited access to modern incubators. Additionally, the lack of reliable electricity in rural and urban regions of developing countries renders such devices worthless.
James Dyson Award
The James Dyson Award is administered and run by the James Dyson Foundation, an international charity dedicated to encouraging more young people to become design engineers. Participating countries include Australia, Austria, Belgium, Canada, France, Germany, Ireland, Italy, Japan, Malaysia, the Netherlands, New Zealand, Russia, Singapore, Spain, Switzerland, UK, and the US.
Roberts, this year's James Dyson winner, was awarded USD 45,000, and his alma mater, Loughborough University of the UK, was awarded USD 15,000. Roberts plans to invest the prize money into perfecting and testing his prototype, and hopes to bring his product to market in the next two years.
Regarding the reception of his invention, Roberts says:
"What would be amazing to me, personally, would be to meet someone . . . say 10 years from now . . . who was actually saved by my incubator."
Jenn Lonzer has a B.A. in English from Cleveland State University and an M.A. in Health Communication from Johns Hopkins University. Passionate about access to care and social justice issues, Jenn writes on global digital health developments, research, and trends. Follow Jenn on Twitter @jnnprater3.