If you think there's MU-induced finger-pointing now, just wait until the benefits of Big Data optimization become glaringly apparent, and Interoperability is defined as the essential requirement to make it happen.
It just won't leave us alone. The Interoperability curmudgeon persists in nagging us about its importance, and now it's whining an "I told you so" about how essential it will be in healthcare's Big Data bonanza. If you think there's MU-induced finger-pointing now, just wait until the benefits of Big Data optimization become glaringly apparent, and Interoperability is defined as the essential requirement to make it happen. Those isolationist vendors with their silo-generating products may find themselves on the bottom of the healthcare heap—as their more open-access competitors enjoy a scramble to the top of the Clinical Analytics and Population Health pile. ACOs and the bundled-payment weary will be beating down the door for access to their Big-Data-friendly wares—which promise a new era of medicine that can improve care quality and drive down costs by looking into healthcare's crystal ball. Data from EHRs across multiple platforms, activity on social media, and the influx from mHealth devices and applications are all dishes at the Big Data banquet, and we're fortunate that there are leaders among us modeling how best to partake.
On the EHR front, a bright star in this dark interoperable sky is Greenway Health—a healthIT bridge-builder which is leading the way in recognizing interoperability as the key to healthcare's kingdom. Greenway is the only vendor which is a co-founder in two key interoperability initiatives which increase both vendor-to--vendor and multiple healthcare stakeholder collaborations: CommonWell Health Alliance and CareQuality. Within Greenway, interoperability efforts focus on its PrimeExchange interoperable health IT engine, touted as the largest health information exchange (HIE) that doesn't receive government funding. With the ability to connect a variety of clinical, administrative and financial systems, PrimeExchange supports standards such as Extensible Markup Language (XML), Health Level 7 (HL7), and the continuity of care document (CCD). According to CEO, Tee Green, "It's this concept around data liquidity: that's what PrimeExchange gives us the ability to do." Experts think Greenway may have the potential to solve the interoperability conundrum that many companies face, as long as it can stay focused. Of course, Green thinks they can: "We see ourselves, over the next decade, being a major player of moving clinical information, financial information, and administrative information around the country, connecting our customers to information that allows them to truly improve health for their consumer. We have the assets and the footprint to do it."
Interoperability is also the key to the latest in healthcare phraseology: Population Health. Since population health is affected by the consumer-generated data that exists outside of the EHR, the focus on social media is gaining steam. One company sharpening this focus is Symplur, which provides healthcare social media and analytics consulting services, "…specializing in driving insight and creating business value from healthcare conversations by measuring impact, content, and engagement at the convergence of Web 2.0 and Health 2.0." Symplur is the founder and curator of the Healthcare Hashtag Project—and as a result maintains the largest global database of healthcare related Twitter conversations. Recently, the company announced their new digital analytics product, Symplur Signals. It provides clients with an unprecedented hands-on access to their enormous Twitter database, which consists of over 500 million tweets on over ten-thousand healthcare topics—with the addition of nearly one million new healthcare tweet from patients, physicians and other key stakeholders in healthcare each day. According to co-founder, Thomas Lee, "Over the past five years, we have seen that the value of healthcare social media is no longer in question. Now the focus is on ways to extract business and health insights from social engagement."
Certainly, if we consider data outside of the EHR as inherent to addressing population health, then data generated by the growing plethora of mhealth devices and applications must be taken into consideration as well. However, the ability for a single provider—or even large healthcare system—to achieve the required interfacing capability to extract all this data seems impossible. That's why Big Data aggregators like Validic are providing solutions. The recent recipient of Frost & Sullivan's 2014 Best Practice Award, Validic's "scalable cloud-based platform delivers easy access and actionable data to help healthcare companies accelerate their strategic business initiatives." By providing a single digital health platform as the central point of interface, Validic connects patient data from a variety of mhealth sources with the providers who need it to optimize care and reach business goals.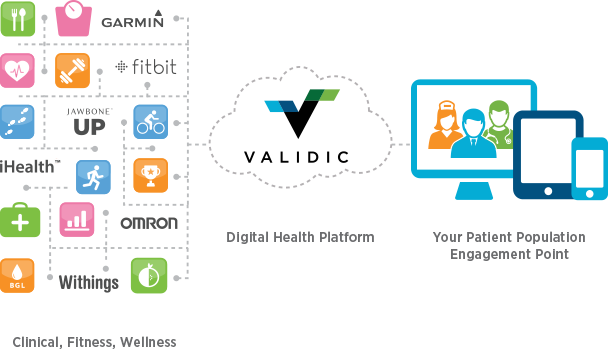 Copyright© 2014 Motivation Science Inc. Used with permission. Source: Validic.
In a statement about the award, Frost & Sullivan analyst Shruthi Parakkal touted Validic's benefits: "On analysis of the market landscape for healthcare interoperability solutions, Validic clearly stood out as generating the best value...One of the things that sets Validic apart is the company's focus on customers throughout the entire process…Furthermore, its mHealth interoperability platform is a unique technological solution with a quick deployment time of a few hours, and is 90 percent cheaper than a healthcare company trying to build a comparable mHealth solution internally. Validic is a great value to healthcare companies looking to accelerate their digital health business strategies."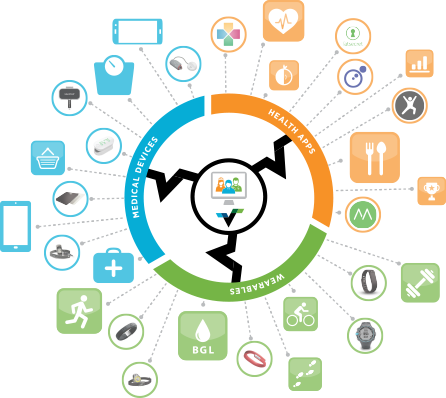 Copyright© 2014 Motivation Science Inc. Used with permission. Source: Validic.
When I asked Ryan Beckland, CEO and Co-founder of Validic for his perspective on the role of Big Data in healthcare's future, he provided the following insights:
"The healthcare industry is undergoing an undeniable and significant transformation. Healthcare reform, value-based reimbursement models, Big Data, population health management, patient engagement, telehealth, patient health device usage, and additional factors have contributed to a major shift in the dynamics of the healthcare landscape. As healthcare stakeholders move toward value-based care and try to accomplish their key strategic business imperatives, they are struggling to find ways to access and integrate the data from patient health devices, wearables and healthcare applications.
Healthcare organizations that are showing signs of success with their Big Data initiatives have been figuring out ways to obtain and integrate this data into their health information systems, as a means to emphasize wellness and prevention with their patient populations. These organizations are turning this data into insights to drive improved workflow and outcomes. Validic clients like Kaiser, Sutter Health and UCSF are great examples of leaders in this industry transformation. By leveraging the Validic digital health platform, they can access critical patient data that can be analyzed to provide better insights into care treatment plans, monitor patient behavior, improve financial management of their patient populations, and provide better connectivity across the entire continuum of care in their communities.
As the healthcare industry continues to evolve, there certainly will not be a shortage of data. Patient Data is the new currency of this health care marketplace. Those companies that understand this, look for ways to access this data and actively translate it to better patient outcomes will thrive."
Ryan Beckland
CEO and Co-founder
Validic
A similar, but more single-system-focused effort is underway at Boston's Beth Israel Deaconess Medical Center—which is preparing to accept patient-generated data into their EHR with the support of "data navigators." According to CIO and emergency room physician Dr. John Halamka, now's the time to do it:
Devices are becoming an integral part of patients' care regimens.
Changing payment models incentivize wellness and value-based care.
Middleware, such as Apple's HealthKit, is filling the data navigation gap.
In an interview with MobiHealthNews, Halamka expanded on his reasoning: "…It's great that Withings or Jawbone or whatever is collecting this data on their website, but what I, as a CIO, need to do is gather the data on your medical record, inpatient, outpatient, devices in your home, and understand what I can do to keep you well…You will, through the device that you have, your mobile phone, be able to use middleware integration to the various kinds of telemetry in your home, and therefore [have] a single point of interaction between your phone and the EHR. Not 100 points of interaction between your Fitbit, your Jawbone, your Nike shoes and the EHR, which is an interfacing impossibility." Halamka's goal is to create a home-grown app at Beth Israel Deaconess, which will interface with Apple's Healthkit app for secure transfer of data to a dashboard monitored by "care traffic controllers," who've been specifically hired for this purpose.
Nope, Interoperability is never going to leave us alone—nor should it. It should be the persistent pest nipping at our heels, demanding that patients get the care they deserve with the bits and pieces of their data are all gathered in one place. And certainly, as the benefits of Big Data optimization become glaringly apparent—when quality is up, and costs are down—this annoying curmudgeon will become the new BFF that everyone wants to claim as their own.