Informed patients in need of palliative care are finding that their needs can be met in better ways—by practitioners who recognize that new models of mobile medicine may be better suited to optimize patient care.
A doctor came to our house recently.
That's right. She came to us. She packed herself into her SUV, and battled the inconvenience of travel and traffic—which in our county, says a lot.
I care for my 84-year-old mom, who is having increased difficulty with mobility and symptom management needs—and she's given me permission to share her story. I've often worried about how we'lI access the care she needs if she loses the ability to travel. How I've longed for a telemedicine solution!
For the most part, she has wonderful physicians, but none of them provide such services. And though hospice meets this need for many patients, Mom's situation doesn't quite fit the bill. That's why I was so excited when a friend told me about a new model of care in our area for patients in need of palliative care.
Launched in August 2014, Horizon Palliative Care Partners, aims to bridge the gap for seriously ill patients in the community who seek palliation of symptoms to improve quality of life. Manned by three former hospice medical directors, all are board-certified in hospice and palliative medicine—in addition to their primary board certifications, like family practice and internal medicine. Like many small practices, they use athenahealth for an EMR, with a patient portal that I can access from home.
These are my peeps—practitioners who speak my language and understand what we want to support Mom's desires for care. No resuscitation. No more hospitals. Just optimizing her quality of life in her own home, in the manner in which she chooses.
I was so relieved to see Dr. Owens walk through that door, it brought tears to my eyes during her visit. Finally, I felt that we were no longer alone in trying to help Mom remain in charge of her own healthcare choices in this final season of her life. In her former paradigm, she still wasn't—enduring the distress and discomfort of packing off to the doctor just to meet the medical establishment's needs.
If I, a 30-year nurse and hospice veteran feel such relief, imagine all of the patients and families who feel more helpless than me. During her visit, I asked Dr. Owens for her perspective to share with our readers regarding their decision to launch this alternative model of care:
"Since its conception, palliative medicine as a field has been coupled strongly with hospice. This has been to the benefit of hospice patients, but to the detriment of countless other patients who don't qualify for hospice yet. In branching off from hospice, we extend the benefits of palliative care to a broader scope of patients. Our mobile technology tools enable us to bring our services to people's homes, when and where they're needed most. Many patients and families we care for often feel pressured to make medical decisions that may not be in accordance with what their wishes truly are. By focusing on symptom relief and assisting in establishing goals of care, we aim to empower patients and their loved ones to advocate for themselves as they navigate our complex medical landscape."
It's what Dr. Michael Fratkin decided as well, when he launched his start-up in California's rural Humboldt County. Also a palliative care physician, Fratkin says that many of his patients are in areas that have no access to hospice services, so he is their only option for home-based care which focuses on symptom management and quality of life—as opposed to invasive care and hospitalizations.
Frustrated by his inability to provide the palliative care he is so passionate about within the hospital system, Fratkin launched his startup, ResolutionCare, as a mobile-only alternative to the model which requires patients to come to him.
I spoke with Dr. Fratkin on the phone recently, and was impressed by the depth of his passion in meeting the needs of patients who are often out of reach of the traditional care model:
"With such a need for palliative care in remote areas, and no access to specialized care locally, we created a mobile-only framework to care for these patients. We purposefully don't have a brick-and-mortar infrastructure, but provide care strictly through both in-person visits in patients' homes, as well as through videoconferencing and telemedicine as needed to get beyond the spatial limitations. It's a fairly medium level of tech innovation – everyone and their mother has a smart device – and the bandwidth need is minimal. Essentially, we can reach anybody, anywhere."
Fratkin says they have a clinical for-profit arm which gives them the ability to contract with payers to care for their patients on the frontier—creating expertise that's distributed where people get their care. Their non-profit educational arm provides the ability to obtain grants and expand their impact to other regions of the country. Also launched in August of 2014, their hugely successful Indiegogo crowdfunding campaign raised $137,000—which was 137% of goal. Additional private donations topped out the initial fundraising total at $150K.
"What we have in America is a scenario of a healthcare system that is obsessed with fixing the mechanical-only needs of our bodies, an aging population that is more comfortable talking about dying, and an awakening in our society that there is a great need for these conversations."
In a knowledge-sharing partnership with the University of New Mexico's Project Echo, Fratkin's plan is to build a team of professionals who provide care through a comprehensive model—which includes digital health solutions like telemedicine-based videoconferencing when needed.
Source: YouTube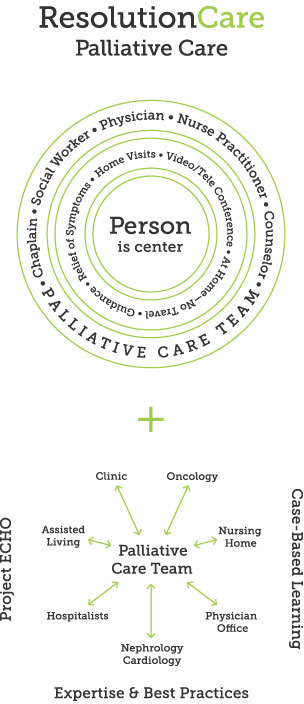 Source: ResolutionCare. Used with permission.
Project Echo itself is a cutting-edge model of knowledge-sharing, touted as a "performance optimizer" to spread new knowledge using video technology to receive guidance from specialists to provide the care needed in rural communities – "moving knowledge, instead of moving patients."
From the website:
"Launched in 2003, the ECHO model™ makes specialized medical knowledge accessible wherever it is needed to save and improve people's lives. By putting local clinicians together with specialist teams at academic medical centers in weekly virtual clinics or teleECHO™ clinics, Project ECHO shares knowledge and expands treatment capacity. The result: better care for more people."
Started as a means to reach more patients in need of treatment for Hepatitis C,
"Today, Project ECHO operates 39 hubs for nearly 30 diseases and conditions in 22 states and five countries outside the U.S., including sites within the Department of Defense healthcare systems."
With some overlap of telemedicine and telehealth technologies and goals, the teleECHO™ clinics serve to provide ongoing education to rural practitioners, with patient-specific consultations regarding disease-specific needs.
Source: YouTube
Both are examples of what we continue to see in the growing trend of the Digital Medical Home, as the Democratization of Medicine is enabling consumers to be increasingly empowered to take charge of their own healthcare needs. It's a major paradigm shift, in which informed patients are demanding that their needs be met in better and more efficient ways—and practitioners are recognizing that new models for care that move beyond the rigid brick and mortar days of old may be better suited to optimize patient care—meeting the needs of both their patients, and themselves.
Sue Montgomery is nuviun's Senior Content Editor. Passionate about patient advocacy, she's been a nurse for 30 years in both critical care and hospice. You can follow her on Twitter: @suemontgomeryrn.
The nuviun blog is intended to contribute to discussion and stimulate debate on important issues in global digital health. The views are solely those of the author.