Qatar's multi-media, multi-generational, bilingual health education campaign teaches the importance of lifestyle choices in the fight against diabetes and other non-communicable diseases.
Sahtak Awalan, Arabic for "Your Health First," is a five-year wellness promotion program that brings health education to all those in Qatar. Qatari Minister of Public Health H E Abdullah bin Khalid Al Qahtani launched Sahtak Awalan in 2012 with a particular focus on the growing problem of obesity in the Emirate.
A study published last month in the Qatar Medical Journal found that the increase in diabetes mellitus was most strongly linked to Qatari nationality (compared to expatriates). Other notable risk factors were higher income, obesity, and a sedentary lifestyle.
"Our analyses suggest that eliminating obesity and improving awareness about this disease may reduce diabetes mellitus cases by up to one-third for the population at large and by up to half for Qatari nationals. Promoting physical activity may reduce diabetes mellitus cases by up almost 10% for the population at large and by over 15% for Qatari nationals," said Dr. Paul Christos, Lecturer in Healthcare Policy and Research in the Division of Biostatistics and Epidemiology at Weill Cornell Medical College in New York City.
Weill Cornell Medical College (WCMC) – a collaboration between Qatar Foundation and Cornell University – is running Your Health First. WCMC has several strategic partners in the campaign, including the Supreme Council of Health, the Supreme Education Council, Qatar Petroleum, Occidental Petroleum of Qatar Ltd., ExxonMobil, Vodafone Qatar, and the Qatar Olympic Committee.
The campaign has been presented in a number of phases. In the first phase, the community is introduced to issues related to public health, particularly healthy practices and the importance of physical activity and diet.
Additional topics will be covered in subsequent project phases, including diabetes and other non-communicable diseases, anxiety, and sleep disorders. The project is expected to conclude with the completion of the National Health Strategy in 2016.
Sahtak Awalan is innovative in many ways, perhaps most importantly, because it brings health education out of hospitals and physicians offices and into homes via traditional and Internet media. According to HE Abdullah bin Khalid Al Qahtani,
"Health is not limited to large-scale projects, hospitals and health centers… [I]t is far more important to promote health awareness and healthier lifestyles among the population."
Educating school children and their parents is a significant aspect of the five-year campaign. The initiative aims to provide all Qatar foundation schools with lunch meals.
Your Health First also teaches children the value of healthy choices through fun, hands-on activities. Haya Buassoum, a 10-year old participant from Nosaiba Bint Kaab Girls Primary, said: "I planted an eggplant and it was the first time that I had grown vegetables. We learned about how to look after the plants and to keep Qatar 'green'. I also learned to eat healthier food like cucumbers and tomatoes but to avoid hamburgers and chips."
Social Networking and Edutainment Key to Success of Innovative Health Education Campaign
By combining social networking and cutting-edge educational marketing with more traditional media, Sahtak Awalan reaches across generational boundaries to promote the health and wellness of all Qataris. Children learn about nutrition at school, and bring printed materials home to their family and caregivers. Adults may view the series of animated, comedic infomercials on television or online. Additionally, a series of more formal YouTube infomercials addresses topics such as metabolism, obesity, and vitamins.
Source: YouTube
Participants can share their enthusiasm on Sahtak Awalan's Facebook page, view photographs on Instagram, and stay up-to-date via Twitter or Google+. Special events, such as the upcoming and wildly popular Color Run, encourage participation in fitness and educational programing.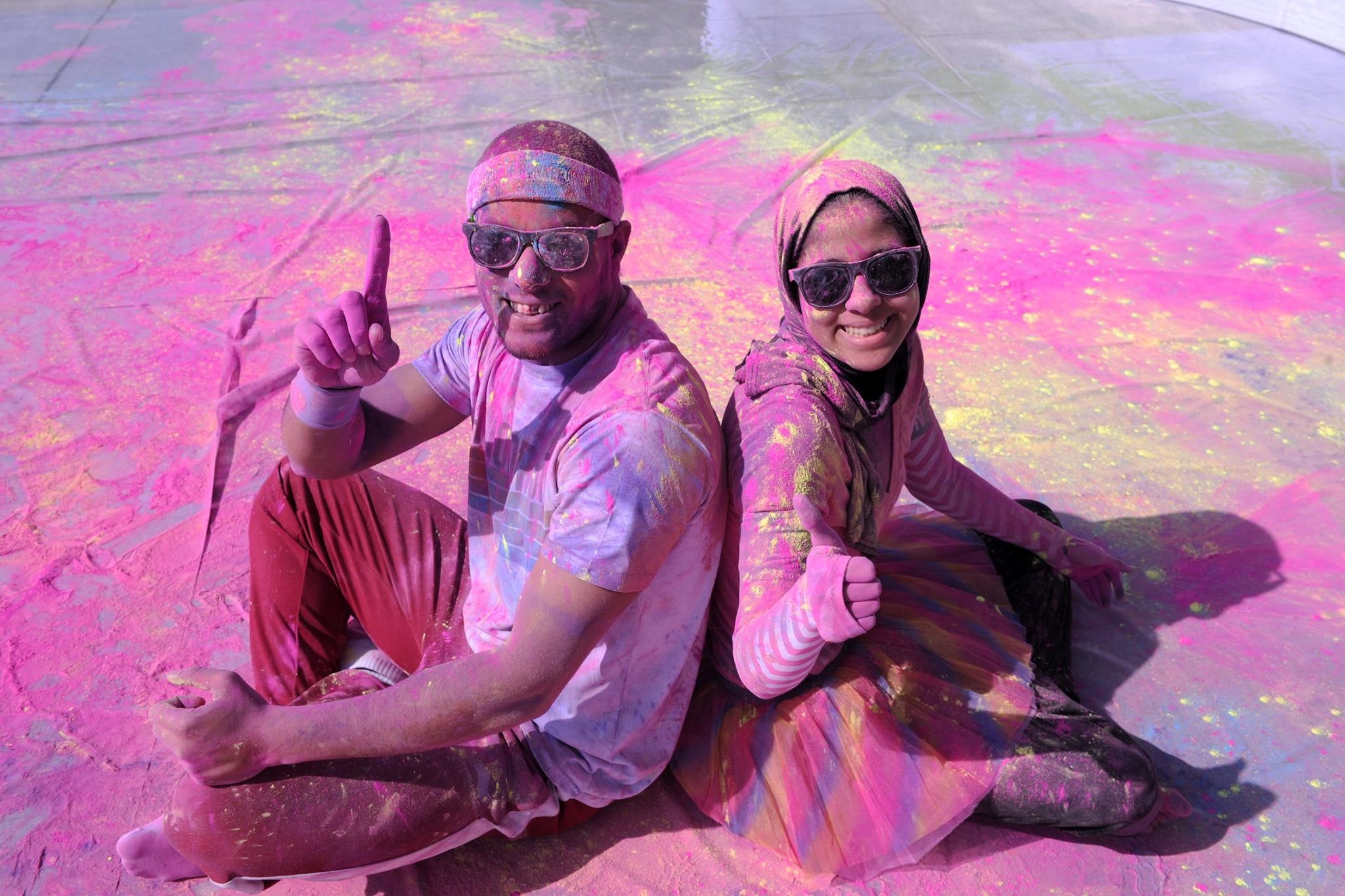 Sahtak Awalan Color Run - Source: Sahtak Awalan
On February 17-18, 2015, Sahtak Awalan will be showcased among some of the world's most exciting healthcare innovations at the second annual World Innovation Summit for Health (WISH). It incorporates edutainment with animated, comedic commercials with takeaway health messages in both Arabic and English.
Jenn Lonzer has a B.A. in English from Cleveland State University and an M.A. in Health Communication from Johns Hopkins University. Passionate about access to care and social justice issues, Jenn writes on global digital health developments, research, and trends. Follow Jenn on Twitter @jnnprater3.